News Center
Service center
Toll-free Hotline: 0755-88263888
Phone Number:+86 0755 88263888
Fax :+86 0755 88263999
Realord acquisition of Hong Kong, home of veteran broker Lee create the Combination, the internationally renowned enterprise groups

Click:2728Date:2014-03-11 14:46:58
Realord acquisition of Hong Kong, home of veteran broker Lee create the Combination, the internationally renowned enterprise groups
Realord recently acquired Lee , home of the Hong Kong Securities Limited . Currently , the ongoing conversion to shareholders , approval of the SFC will be completed within the specified time , then it will be renamed.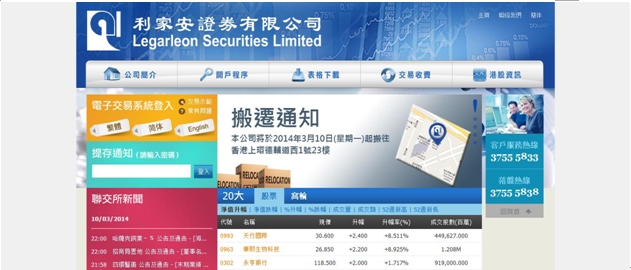 Website of Legarleon Securitues:http://www.legarleon.com.hk/
Hong Kong's Li Jia An International Investment Group Co., Ltd. is an established company , it has been 30 years of history, Lee Securities Limited is a home security , home of Lee 's International Investment Group Co., international, specialized securities companies . After 30 years of operation and development, "Lee home security" in the local business community to establish a good credit and have achieved excellent results . Ann Lee home and overseas financial and Hong Kong both have close contact .
Lee , home of the SFC in Hong Kong Securities Limited access to first class " dealing in securities" license ( license number : AVJ441) in 2010 and the Hong Kong Stock Exchange trading symbol : 6515,6516,6517,6518,6519 , providing our customers with an innovative trading platforms ; company 's securities trading system using the latest , providing our customers with safe, fast and cheap securities trading services.
An acquisition of securities Lee family is an important step in Shenzhen Realord Group to upgrade and expand overseas business. For decades, Realord Group vigilant and looking forward to the future, attaches great importance to upgrade from the original OEM monitor, to the production of smart phones , the brand television ; then expand the real estate as well as financial services. A diversified conglomerates already forming.
Finance is the blood of the industry , there are financial , will intermediation . Realord Group attaches great importance to the financial industry , focusing on the Combination . Qianhai Shenzhen-Hong Kong Modern Service District was established at the beginning, before the sea -Realord incorporated asset management companies around the fiduciary asset management, investment management , investment advisory , equity investment , corporate assets, restructuring, mergers and acquisitions and project finance , financial advisory , commission management equity funds and other projects to conduct business , give full play to Realord Group's strong financial advantage , and a wealth of talent and social resources , the era of corporate strategic development of the SAR force after service .
In the future , the Group will further integrate Lu Wei Hai Realord, former asset management company with Lee Securities Limited home security , focusing on synergies , open access to international financial markets , in the international financial markets sail ! Financial driven industry to promote financial industry , the development of the Combination , the world 's internationally renowned enterprise groups !
Up:Realord Group becomes Shenzhen City Fire Association unit
Next:Our company won the award, Futian District Chamber of Commerce's most enthusiastic members of the conduct of business enterprises medals